October 17, 2018
Alligators in my Crawfish Pond!
By: Barry Toups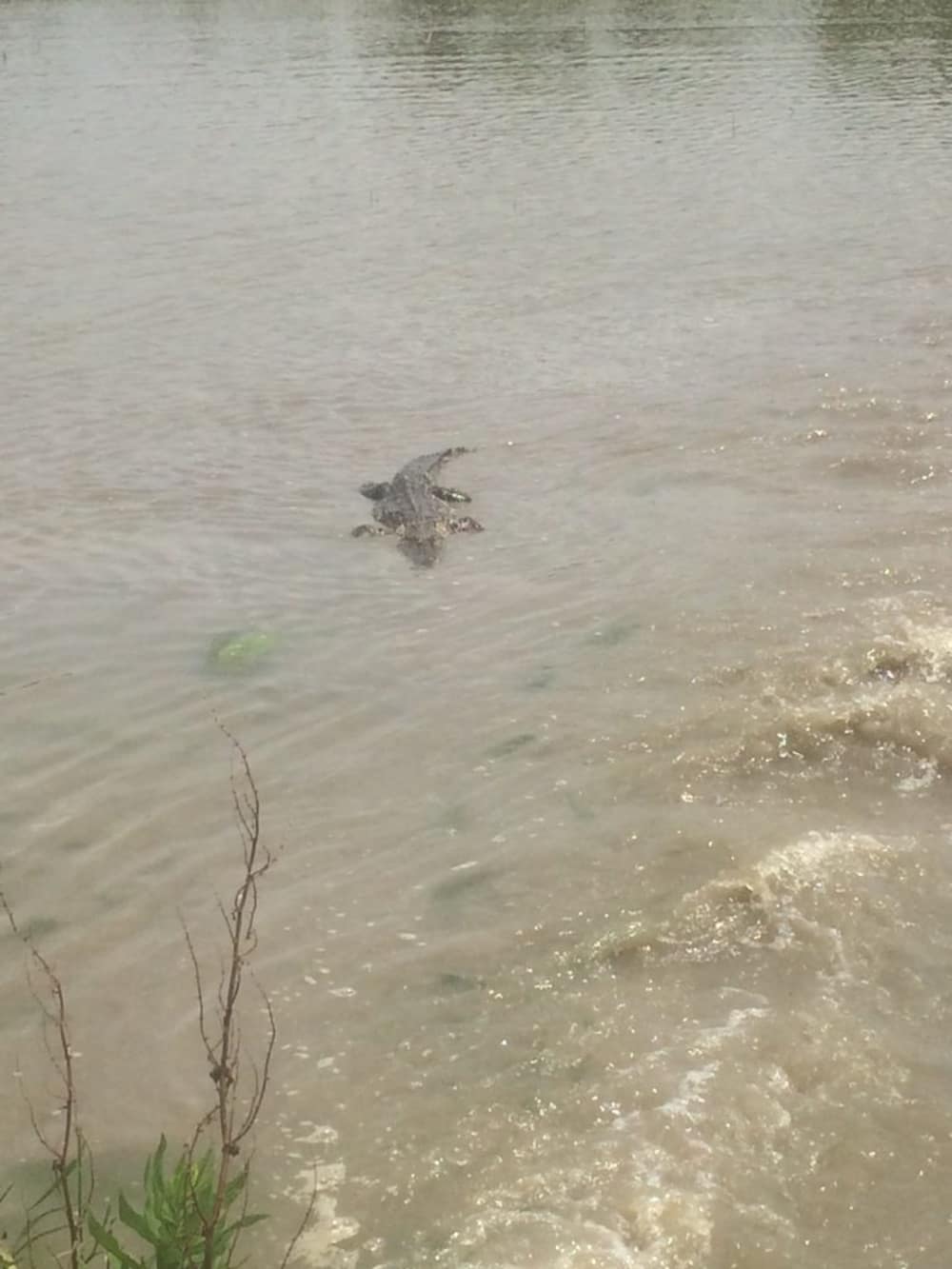 I've always had a problem with mink and otters in my crawfish pond. They turn over the crawfish traps allowing the crawfish to escape and they eat the crawfish, resulting in empty traps. Often, when I take people out on crawfish excursions, the first thing they ask is "Do you have any alligators in the pond?" As far as I knew, I did not until recently when I saw alligator eyes and a baby alligator. I knew the mama had to be somewhere close by. Just recently, I had a chance to meet mama and baby, in a strange and scary way.
I went to my pond to let the water out now that crawfish season is over. Shown in this photo to the left is a pipe which is there to keep the pond at a certain level during the season. When I went to pull up the gate next to the pipe to open it so the water could go out, what I saw shocked me – an alligator in the pipe! Obviously, a stuck alligator! The photo on the right is a closeup of it being stuck in the pipe.
So I opened the gate and when I did, the rush of water pushed the alligator out. Not only that alligator, which was about an 8' gator, but another one of about 4' as well. The scary part was that it was very close to me when it came out. It laid still for a moment and I thought it might be dead. Suddenly, it took off, being so happy to be freed from the pipe, and so did the other one. But for a moment, it was closer to me than I would have liked. I did manage to get a photo of the big alligator after it came out. It was probably hungry from being in that pipe, and as you can see, it's looking right at me. Thankfully, I was able to get away safely. From now on, I need to be armed when I go to my pond.
Hopefully, the nutria and otter problem I've had for so long might be taken care of by hungry alligators. I hope they stay nearby in the coulee until I flood my ponds again. I'll update this story when I know for sure.