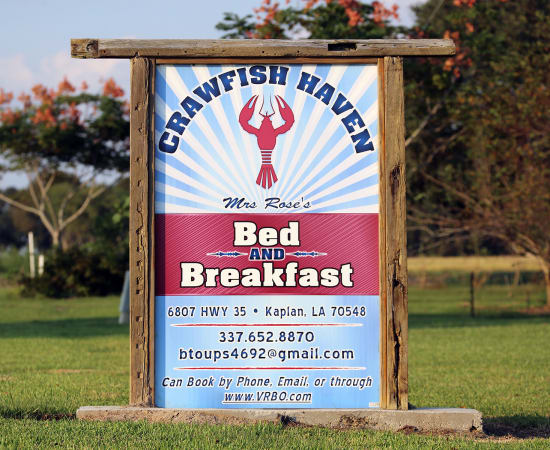 Offering Crawfish Excursions, Cajun Dinner Specials and Cajun Cooking Classes
Crawfish Haven/Mrs. Rose's Bed and Breakfast is located north of Kaplan, Louisiana near Abbeville, Gueydan, Lafayette and Rayne. It is the only bed and breakfast near Lafayette and possibly all of Louisiana that offers Crawfish Excursions. We also offer Cajun Cooking Classes and Cajun Dinner Specials prepared by Barry Toups, owner, who has won many awards for his cooking skills. We can prepare any Cajun dish you would like.
Our Pavilion Event Venue can accommodate up to 60 persons for birthday and anniversary parties, family reunions, crawfish boils, etc.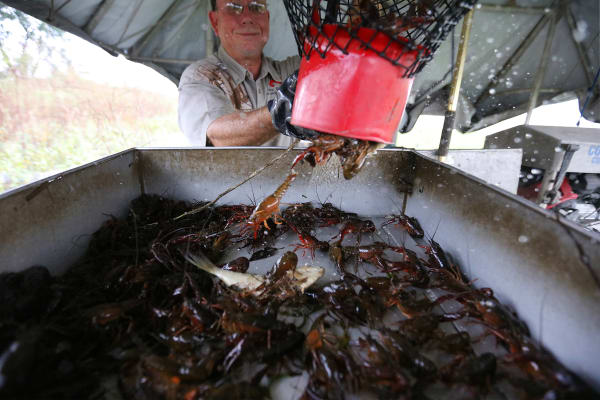 Crawfish Excursions
A unique flair that is offered to all guests...
We are the only bed and breakfast near Lafayette and possibly all of Louisiana that offers Crawfish Excursions. Experience firsthand how these amazing crustaceans come to appear on our tables. A guide will assist you in a unique boat ride through crawfish ponds allowing you to catch your own crawfish the way it's done commercially. Later, you can end the evening with a crawfish boil in true Cajun style. Or, if you prefer, you can catch crawfish the old-fashioned way, using hand nets.
Learn More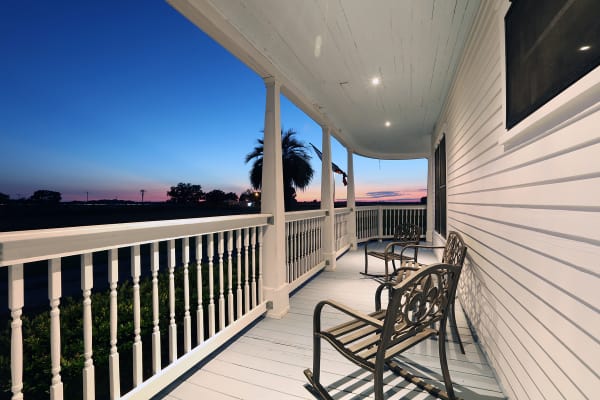 Perks of Staying With Us
Experience the Following:
Crawfish Excursions in boat
Catching crawfish using hand nets
Gazebo overlooking pond for relaxing or watching the sunrise
Centrally located between Lafayette, Abbeville, Gueydan and Rayne
Quiet countryside among crawfish ponds and cane fields
Use of kitchen, dining room, living room included in overnight stay
Cajun Dinner Specials available
Cajun Cooking Classes available
Kid-friendly on 2 acres of land to run and play
Wrap-around porches
Event Venue Pavilion available for events, crawfish boils, and relaxing
Free parking, free Wi-Fi
Bus parking available
Camping sites (coming soon)
Fishing on Property for bass & bream - catch & release (coming soon)
Book Now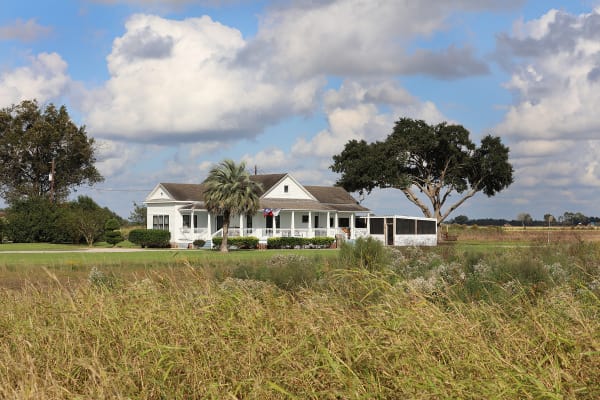 Our History
Biography of Leroy and Rose Robichaux & History of House
Biography of Leroy and Rose Robichaux
Leroy and Rose began dating when she was fifteen and he twenty-two years old. He was her high school teacher; back then teachers certainly were not allowed to date students, so they had to keep their relationship a secret until after Rose's graduation....
History of Mrs. Rose's Bed and Breakfast
The house was originally built in 1903 for Paul and Oza Landry Blanchard by two carpenters equipped with only a hammer, saw, square, nails and wooden pegs. The lumber used was oak, cypress, and pine; it was purchased in Garden City, Louisiana, and brought to the site by mule train....
READ MORE
Where Else Can You Catch, Cook and Sleep?
It's true! At Crawfish Haven/Mrs. Rose's Bed and Breakfast, you can catch crawfish, boil them or have them boiled for you. Once you have had an exciting day and your stomach is full, you can sleep in our B&B and wake up to a unique and delicious breakfast in the morning.
Soon you will be able to catch bream and bass (catch & release) in our fish pond directly behind the B&B.
Our bed and breakfast provides the perfect location for shopping, restaurants, attending South Louisiana festivals, crawfishing, hunting and fishing. We offer a Hunter's Special and we are the perfect location for hunters to bring their wives and let them shop while they hunt! We are a kid friendly accommodation! We offer other packages and specials, as well.
Situated on 2 acres of land, there is plenty of place for the kids to play. We have ample space for bus parking.
Book Now
Crawfish Haven/Mrs. Rose's Bed and Breakfast